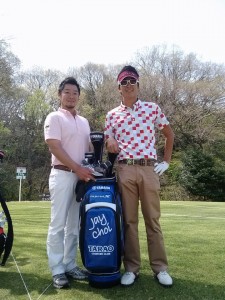 Jay Choi finished in a tie for 25th place at the Tsuruya Open with round's of 71-69-69-68 (277) on the Yamanohara Golf Club Course, Hyogo, Japan. The talented 29 year old player from Southern California had a roller coaster tournament as evidenced by his 14 birdies, 3 eagle's (2 in the 3rd round) and a disappointing 13 bogey's.
Jay's putting was up and down as well. He had 31 putt's in the first round, 23 in the second (12 one putt's), 29 in the third round and 26 in the final round. Overall, Jay had 31, one putts over 72 hole's and five, three putts.
Jay told his coach, George Pinnell, that his problem's were in all phases of his game, driver, irons and putting. One thing is for sure, Jay will need to improve his consistency to continue his success on the JGTO. Pinnell said, "knowing Jay, he will lay his head on his pillow at night and figure it out, and then put his plan into action the next day. He will figure it out, be it technical or course management decision's on how he SHOULD play each hole according to how the architect designed the hole."
Next up this week, will be The Crowns Tournament at Nagoya Golf Club, Aichi, Japan. Live scoring is available at www.jgto.org.