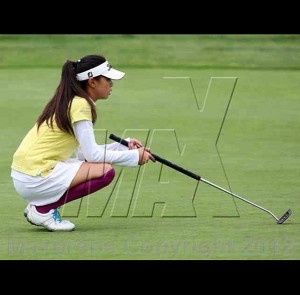 Kaitleen Shee, a freshman at Diamond Bar HS, Diamond Bar, CA, shot 76-77 (153) to tie for 4th place in the Toyota Tour Cup Series @ Desert Falls C. C., Palm Desert, CA. Mackenzie Raim won the event scoring 73-75 (148).
Kaitleen is working on swing changes that have contributed to her improved scoring in the last several events. According to her coach, George Pinnell, "Kaitleen is working on improving her tempo (speed) and shortening her swing to take out the "slack" that contributes to a "loose" swing that causes erratic ball flights."
Breann Fox, Chino, CA, finished in 10th place with a pair of 78's (156) while 12 year old Katherine Muzi shot 82-82 (164) to finish in a tie for 20th place.
Hansel Suharli, Fullerton, CA, shot 82-75 (157) to finish in a tie for 25th place in the Boys TTC.
In JDL action at Brea Creek Golf Course, Yiyi Ouyang, Diamond Bar, CA, finished in 25th place with a 9 hole score of 42.
In SCPGA Junior Tour action, Spencer "the optimist" Albrecht, Chino Hills, CA, finished in 8th place with an 85 in the Boys 15-18. Ricky Cen won the Boys 12-13 with a 78 (+6).
At the Kikkor Golf Classic @ Lakewood Country Club, 13 year old Alisaundre Morallos, Long Beach, CA, shot a +4 76, to finish in 2nd place in the Girls 12-14 age group. Leeyen Peralta, tied for 5th place with a +7 44 in the Girls 9-11 age group.
Ricky Cen finished in a tie for 23rd place at the TTC Desert Willow Qualifer @ Empire Lakes with an 81. 12 year old Mathew Huo shot 85 to tie for 49th place while Aaron "Dewey" Chang struggled with ana 99 to finish in 71st place.
Felicia Chang, finished in a tie for 11th place with an 84 (+12) the Girls TTC Qualifier.
Congratulation's to all GPGA players on efforts to improve their play!!