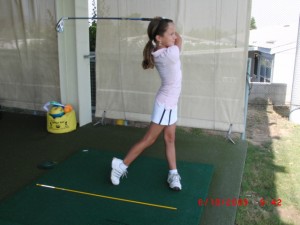 Breann Fox, Chino, CA, shot 73-75 (148) to finish in 12th place in the Golfweek West Coast Junior Invitational, played at Longbow Golf Club, Phoenix, AZ. In the first round, Breann shot a one over 36 on the par 35 front nine. She opened with a birdie but bogeyed the 2nd, stumbled with a double on 4, a birdie on 5, bogey on 7 and a birdie on 8 to finish with the 35. Her back side was a little more stable with bogey's on 11 and 14 and a birdie on 18 with par's on her remaining hole's for her 37.
Breann's final round was more stable but she made only one birdie to go along with 3 bogey's and a double for her 75.
Stephanie Lau, Fullerton, CA and a former student of George Pinnell shot 68-72 (140) to finish in second place behind winner, Jiyoon Jang, Ranch Mirage, CA, who shot 67-70 (137).