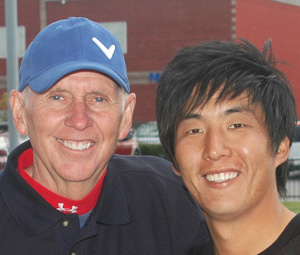 Japan Golf Tour Player, Jay Choi, has invited his coach, George Pinnell to join him next week at the Diamond Cup Golf Tournament in Ibaraki, Japan. The event will be played at the Oarai Golf Club, 5.30-6.02, 2013.
Pinnell will work with Choi prior to and during the Diamond Cup. Choi want's to work with Pinnell on regaining the swing that was successful in college and on the JGTO the past three year's. Pinnell will have his TrackMan and V1 Video system's to give him feedback so that Choi is confident in how he is delivering the club before and after impact. Pinnell will arrive in Japan on Monday, May 27, and return to the Los Angeles area on Monday, June 3.
The Diamond Cup can be viewed on Live Scoring at www.jgto.org.