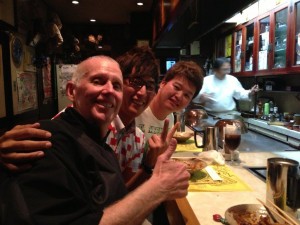 After a hard day of practice and 18 holes on the difficult Oarai Golf Club, Japan Tour Player's, Jay Choi and Yoshikazu Haku, Coach George Pinnell and caddie's enjoyed a GREAT dinner at The Steak House Cook Barn owned and operated by Master Hidechka Sasagawa. The Cook Barn is located in Tsuchiura Ibaraki.
Master Sasagawa was a wonderful host who prepared a sumptuous dinner that started off with rib's, next came the BEST cut's of steak and sirloin that anyone could imagine. The meal continued for nearly 2 hour's of continuous eating and listening to Master Sasagawa spin his stories of "back in the day" with Jay and Haku.
Pinnell has been in Japan this week working with Jay to sharpen his game and to learn about the course's and condition's that are quite different than those in the United States. Every event is set up like a US Open with rough that is 5-6 inches high with no forgiveness. The green's are large, rock hard and very difficult to control distance's when chipping or pitching because the green's do not receive the ball very well, even with tour spin rates.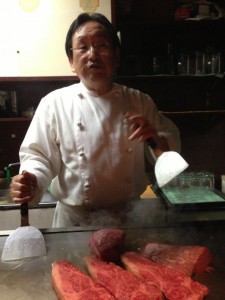 Pinnell has a better understanding of the condition's because they are quite different from those played in America, where the green's are receptive and the rough is minimal in most conditions.
Anyone who is traveling to Japan, should make a stop by The Steak House Cook Barn for a terrific meal!!