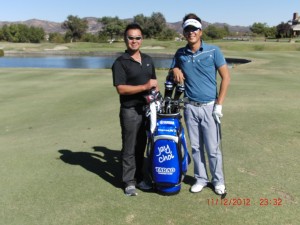 Anyone who has played golf, understand's the up's and down's and the roller coaster feeling's one get's in the heat of competition. The success that Jay Choi had enjoyed in his first three year's on the Japan Golf Tour had not materialized early on in his fourth year. The talented player from Wildomar, CA/Albuquerque, NM, had been searching for what had made his success early on when he finished within the top 30 on the Japan Golf Tour Money List.
Jay had two week's off following the Diamond Cup to work on his game and to analyze what and how he was approaching his game. Through testing on TrackMan, he discovered correction's that would have a positive effect on his driver performance. He took time to think about his putting and how he might make improvement's to make him more comfortable prior to and while making his stroke. Jay approached his putter supplier and decided to make a change in the shape of his putter head to give him an improved "stroke image." He also shortened his follow through and the result was a more solid and aggressive stroke that would "track" better.
With the change's and the renewed confidence, Jay performed reasonably well at the Mizuno Open, finishing tied for 31st with rounds of 71-72-70-71 (284) -4. Although, he would have liked to play better, his performance has improved since he had missed 5 cut's out of 7 event's at the start of the season. Now that his putting has improved, a goal will be to cut down on the mistake's that lead to bogey's.
As the tour move's to Hokkaido this week, Jay is looking forward to regain and improve upon his performance of the past three year's.