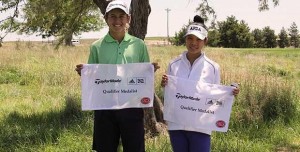 As the extreme heat permeated Southern California, junior golfers continued their goal's of improved performance in spite of the difficult condition's. Leo Lu, a 10 year old, shot a three over par 34 and finished third in the David L. Baker Summer Championship. The winning score was 32, shot by K. An. Leo told his coach, George Pinnell, "I did not play well, today." Pinnell responded by telling Leo that he had played well and that maybe it was a little short of his expectation's, but that sometime's our expectation's and result's are not always in concert with one another. Leo play's in the Boys 9-11 group.
Leeyen Peralta, shot 72 on the par 62 course and finished in a tie for eighth in the Girls 12-14. Sneha Yadav, shot a one over par 32 and finished in third place in the Girls 9-11, while Sherilyn Villanueva finished in third place with a 34.
In the Dad Miller Summer Championship, Katherine Muzi finished in third place with a 7 over par 78 in the Girls 12-14.
In the Junior PGA Section Championship, Felicia Chang shot 85-79 (164) at Morongo GC at Tukwet in Beaumont, CA. The 164 put Felicia in ninth place. The young player had blister's on both heel's, but her dedication and courage pushed her to finish in extreme heat of 100 degree's +. Her 79 is one of her best round's this season. Not only did she play under harsh condition's, she insisted to her parent's that she not miss her golf lesson that evening, even though she was tired and had the blister's. Wow!
Felicia's brother, Aaron, finished with scores of 93-94 (187) to finish in sixteenth place.
Congratulation's to all of the junior's who are competing and working so hard!