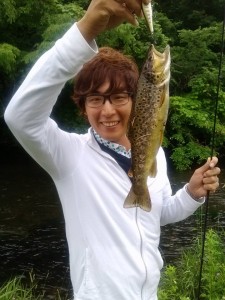 Jay Choi, exhibit's his talent's off the course as he show's off the nice catch of a rainbow trout he caught after his second round at the Invitational Sega Sammy Cup being played this week at The North Country Golf Club, Hokkaido, Japan. Jay's caddy, Ota san is from the Hokkaido and know's all of the "fishin' hole's" on the island.
Jay shot a 3 under 69 in his first round and was in a tie for 13th place. Birdies on 17 and 18, his finishing hole's, moved him up the leader board to put him in a good place to start his second round.
His birdie on the 10th hole was his only birdie of the day. His consistent play and ball striking kept him in a good position as he hit 17 of 18 green's and is leading the tournament after 2 round's in GIR with 88.89%. He told his coach, George Pinnell, after the round, "I didn't make ANYTHING today!" So, what does he do? He ask's his caddy, Ota san, where is the nearest "fishin' hole"? Off they went, to prepare for the third round with a relaxing evening of "catch and release" fishing.
Let's hope his Rainbow Trout will bring him good luck in the third and fourth round's.