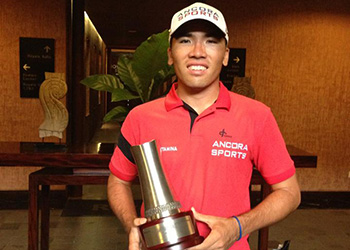 JAKARTA, July 8 – OneAsia regular Rory Hie has made hay during the mid-season break by winning his 10th professional title on the Indonesian domestic tour.
Hie credited a change of putter for his six-shot victory at Royale Jakarta Golf Club. Hie has been experimenting with a broomstick putter, but reverted to an orthodox club for this victory
"I had just 27 putts (for a 68)," he said. "Not too shabby."
Hie, 23, Indonesia's best professional golfer and a former top-ten world ranked amateur, finished 12th on the OneAsia Order of Merit last year with earnings of $102,699.87 from 10 events and a best finish of eighth at the SK telecom Open and Nanshan China masters.
In his maiden OneAsia season in 2011, he finished second in the Indonesia PGA Championship and joint second in the Indonesia Open.
Hie won the Indonesia leg of the Road to the Panasonic Open last month to book his place in the Asia-Pacific Panasonic Open on the Japan Tour in September.
On the PGA Tour of Canada, OneAsia Q-School attendee Ryan Yip finished joint second in the Dakota Dunes Open by a shot to former U.S. PGA Tour player Wil Collins.
Yip finished eighth at OneAsia's Q-School California leg in January.