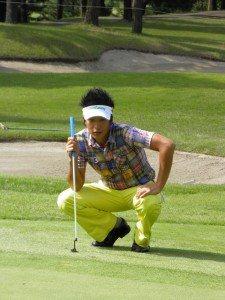 Jay Choi continue's his solid play in the the SEGA SAMMY Cup with round's of 69-71-67-68 -13 (275) to finish in a tie for 13th place. Since his missed cut at The Diamond Cup, Jay has finished 13th, 31st and 13th going into the summer break during the British Open and the PGA Championship.
Jay has improved in almost all of the statistical category's that has led to his improvement. Most visible is the improvement in his third and fourth round scoring ave. His 2012 third and fourth round scoring average respectively was 72.24 and 72.47. Jay's 2013 scoring average has improved to 69 in the third round (Rank 5) and 69.6 in the final round (Rank 7).
The improved scoring average's is a result of improvement in his driving accuracy, green's-in-regulation and of course, his putting average.
Jay is going into the summer break with a super positive feeling about his game as he return's to California, to visit his parent's, friend's and meet with his coach, George Pinnell. He will then return to Albuquerque where he has purchased a new home and will enjoy the break with his fiance, Hyun Ji Kim.
Jay graduated from the University of New Mexico where he was an NCAA All-American. He will reunite with his college coach, Glen Millican and practice at the UNM practice facility. He will recharge his batteries and return to the second half of the Japan Golf Tour with a positive outlook.
Jay want's to thank all of those fan's who have supported him during his time on tour. He appreciate's your support.