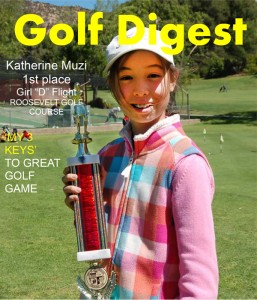 Katherine "The Kat" Muzi, opened her Junior World Championship with an even par 73 in the Girls 11-12 Division. Katherine 73, has her in a tie for 4th, a shot behind Miyabi Tezuka and Minori Nagano's 72 (-1) who are tied for 2nd place. Mikhaella Fortuna, Philippines, shot a 3 under par 70 to lead the division.
Katherine's 73, consisted of a bogey on 4 and a birdie on 8 on her front nine, while making a bogey on 10 and a birdie on 17 to shoot her even par 73. She told her coach, George Pinnell, that she had birdie chance's on about 5 hole's on the front but could not convert.
The Girls 11-12 Division is a 54 hole event being played at Rancho Bernardo Inn, California. Katherine tee's off for her second round at 8 am, Wednesday.
Score's and information about the Junior World can be seen at www.juniorworldgolf.com.