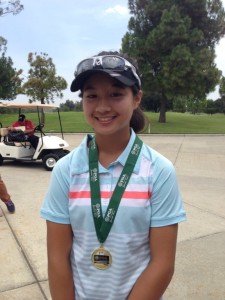 Felicia Chang, a 13 year old player from Hacienda Heights, CA, shot 75 (+1) to win the Girls 12-14 division at the Lakewood Summer Championship. The personal best by the talented ball striker came during a run where she is playing approximately 6 tournament's 6 day's. Felicia, shot even par on the front 9 (her back side) and had 2 birdies and 3 bogey's on the back side (her front side).
According to her coach, George Pinnell, "Felicia has a tremendous upside to her game as she grow's and get's more experience in learning how to face all of the obstacle's that confront one under the heat of competition." "Fish", as Pinnell call's her, as had issue's with being able to "finish" a round and keeping control of her nervousness. Pinnell, added, "her ball striking is very impressive and will only get better as she grow's and mature's. As Felicia move's forward, she will understand and confront the nuances of the game and should be able to develop into a top junior contender.
Aaron Chang, Felicia's brother, shot an 83 and finished tied for 10th in the Boys 12-13 Division. 3 double bogey's derailed Aaron's bid to break 80.