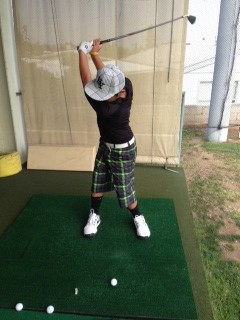 Leo Lu, a 10 year old player from Chino Hills, CA, shot a final round 70 to move up 19 place's in the final day to secure 23rd place at the U.S. Kids World Championship being played on The Little River course at Pinehurst, NC. Leo played in the Boys age 10 division.
Leo started the championship with a 79 that included a birdie on one. The rest of the round was not as productive. Leo had bogey's on 4, 5, 6 and 8 to post a 3 over par 39. He shot a 40 on the back side with a double on the finishing 18th hole.
Leo posted a 77 and was not pleased with his performance on day one and two. Leo started on 10 and shot a respectable even par 36 with a birdie on 17 but a bogey on 18 nullified the birdie. A five over par 41 on the front 9 (his back) put him pretty well in the back of the pack going into the final round.
Leo called George, his coach, and complained about his ball flight. His coach made a suggestion about Leo being too "inside out" on his downswing causing hook's and push's. Coach told him to swing a little more up and down and that his ball flight would improve if he got his face angle in the right position.
Sure enough, Leo listened and his results were a big improvement. Leo started on the back nine by posting a -3 under par 33 that included a birdie on 16 and an eagle 3 on the par five 17th. On Leo's back side (front), he had a birdie on one and bogey's on five and six to post a 37 for a final round 70.
Leo finished 12th in the World Championship when he was eight years old. The tradition continues!
Benjamin James, Waterbury, CT, fired 66-67-69 (202) to win the event by eight shots over Jackson Rivera, Rosssmoor, CA.