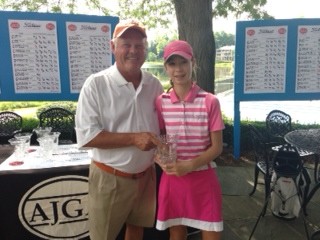 Katherine "The Kat" Muzi, had the lead going into the 54th hole of her first AJGA event of her young career, when a bogey on the 18th hole allowed Allyson Geer, Brighton, Mich. to tie her on the final hole of the tournament. This forced the two young player's into a sudden death playoff to determine who would be the victor. In the first playoff hole, Katherine hit her approach shot into a green side bunker, left of the hole, while Allyson's approach shot landed 17′ from the pin. Katherine made a great bunker shot that left her for a two foot putt for her par. Allyson made her 17′, uphill putt for birdie to win the playoff and the championship, leaving Katherine with second place.
Katherine shot 79-74-75 (228) in her first AJGA event and shot the low round of the day in the third round (74) earning her the "coveted" Scotty Cammeron putter head cover. She would have had the low round on the final day if not for the bogey on the 18th hole, that caused the playoff.
According to her coach, George Pinnell, Katherine gained valuable experience in this event and learned a lesson the hard way,"one must FINISH strong in any competition" to have a chance for victory. This event will inspire Katherine to continue her hard work toward being the best player she can become.
Felicia Chang, La Habra Heights, CA, also competed in her first AJGA event and learned valuable lesson's while she finished in a tie for 18th place with round's of 84-85-84 (253).
The event was played at Forest Lake Country Club in Bloomfield Hills, Michigan.