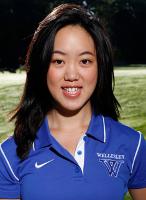 Jackie Lu, a freshman at the highly regarded Wellesley College has made the varsity golf team. Jackie graduated from Diamond Bar High School in June and had a choice of colleges/universities to choose from. Jackie chose Wellesley a women's college, because she felt it was a good match for her academically and because Wellesley has graduated the like's of former Secretary's of State Hillary Clinton and Madeleine Albright along with Diane Sawyer and other notable women graduates.
Jackie played in her first collegiate golf tournament against Holy Cross and Merrimack, where she produced an 11th place finish with a score of 94. Although, she was unhappy with her score, she felt relieved to have competed in her first college event. Jackie and her sister Jessie (State U. of New York) have been long time student's of George Pinnell at The George Pinnell Golf Academy.
Merrimack won the event with a score of 314. Holy Cross was second at 342 and Wellesley finished at 358.
Wellesley's next event will be this weekend at the NYU Invitational being played at the Bronx's Pelham Bay Golf Course.