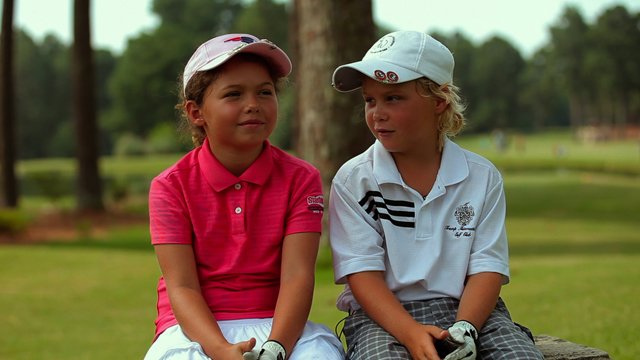 Watch The Short Game Movie Trailer
Award-Winning Motion Picture Documents the U.S. Kids Golf World Championship; Includes Cameos by PGA Members Jack Nicklaus, Annika Sorenstam, Bob Toski and Chi-Chi Rodriguez, and PGA Honorary Member Gary Player
PALM BEACH GARDENS, Fla. – In its continued effort to grow the game of golf and further youth development, The PGA of America is lending promotional support for the theatrical release on September 20 of the award-winning, feature-length documentary on junior golf, "The Short Game." The motion picture from Phase 4 Films and Samuel Goldwyn Films – which received a 2013 South by Southwest Film Festival Audience Award for Documentary Feature – follows eight of the world's best 7-year-old golfers, as they train for and compete in the U.S. Kids Golf World Championship at historic Pinehurst (N.C.) Resort.
The eight stories in "The Short Game" entwine to form a fascinating and often funny portrait of a group of very young athletes and their families, in which the entertaining and highly competitive junior golf subculture becomes both a window into contemporary global society and an inspiring reflection of the human condition. The movie features cameo appearances by some of golf's most iconic playing and teaching legends, including PGA members Jack Nicklaus, Annika Sorenstam, Bob Toski and Chi-Chi Rodriguez, and PGA Honorary Member Gary Player.
"The PGA of America is proud to partner with Phase 4 Films and Samuel Goldwyn Films in the promotion of 'The Short Game,' which is a very fun and entertaining movie on the ups and downs of competing in junior golf," said PGA President Ted Bishop. "We believe it is important to lend our support to this motion picture, which advances the game of golf and introduces it to new and exciting audiences. This is a film that everyone can enjoy for its humor and compelling nature of showing the commitment these junior golfers make, in order to play the game against the best young golfers in the world."
"We are excited to be partnering with The PGA of America to promote 'The Short Game' to the professional golf community," says Berry Meyerowitz, President & CEO of Phase 4 Films. "This movie is for golf fans of all generations, as it communicates the important message that working hard will help you to achieve your goals and dreams."
Directed by Emmy Award-winner Josh Greenbaum, "The Short Game" is a Delirio Films Production and is presented by Phase 4 Films and Samuel Goldwyn Films. Among the movie's Executive Producers are entertainers Jessica Biel and Justin Timberlake. In 2012, Timberlake served as the first-ever United States Ryder Cup Team Ambassador at Medinah (Ill.) Country Club.
"The Short Game" will open in select cities on September 20th. For more information, please visit www.theshortgamemovie.com.