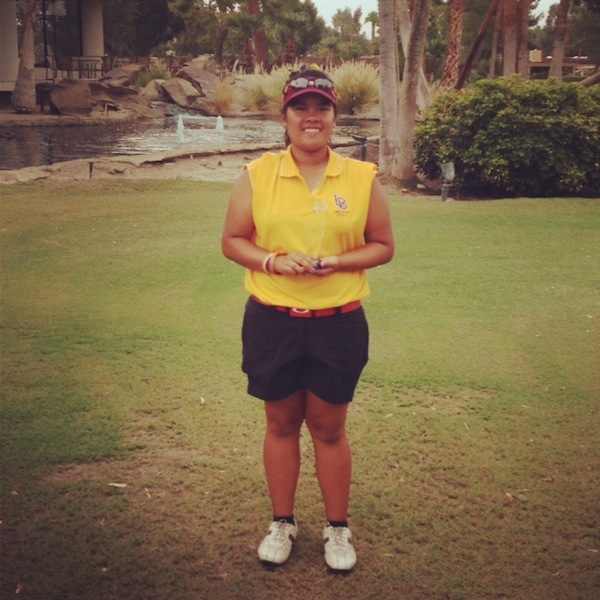 Wilson freshman Ali Morallos continued to impress and claimed the Chappy Wheeler Invitational Individual Championship yesterday after 36 holes and a one-on-one playoff in the desert. The 12-team tournament was hosted by Palm Desert High School at The Lakes Country Club on Friday and The Springs Country Club yesterday. Wilson finished in third place with a team total of 847 (409-433) while the hosts took the title with a 773.
Morallos rolled in three straight birdie putts down the stretch to hold off Mackenzie Raim of Palm Desert. In the final round Morallos stood on the 18th tee, one shot behind senior Raim, who was still playing the 18th hole in the group ahead. Morallos knew a birdie on the closing hole would give her a chance at a playoff for the individual title.
Raim just missed a 20 foot birdie putt on 18 which set the stage for Morallos. The freshman knocked her third shot on the 501 yard par five finishing hole to within six feet and calmly rolled in the putt for the birdie to force the sudden-death playoff. Morallos and Raim both posted 36 hole totals of three over par 147.
The players waited about 45 minutes as the remaining players completed play and the scores were totaled. The playoff started at the first hole, a 474 yard par five, and both players birdied.
They moved on to the 377 yard par four second hole where Raim pulled her second shot on the left edge of the green to 35 feet from the hole. Morallos hit another solid approach to 12 feet right of the hole. Raim left her birdie putt six feet short, which left Morallos with a putt for the win. Morallos seized the opportunity and rolled in her third consecutive birdie to claim the title.
Long Beach Wilson Scores
Ali Morallos 72-75 (147) Individual Champion Pictured Below
Alicia Arzaga 77-81 (158)
Hannah Cruz 80-85 (165)
Shemaiah Javillonar 82-88 (170)
McKenna Rotell 98-104 (202)
Ryann Donahue 109-113 (222)
Similar articles
Ali's coach, George Pinnell, is happy with her progress and he has said that, "Ali, has the potential to be one of the best junior player's in Southern California." It seem's that Pinnell's statement is proving to be accurate with her recent performance's on the SCPGA Toyota Tour Cup Series and her high school matches.