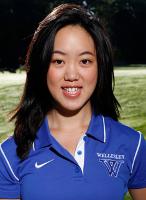 Jacqueline (Jackie) Lu, a freshman at Wellesley College is having an impact on the women's golf team. Jackie finished in 38th place at Mount Holyoke, South Hadley, Mass., by posting rounds of 86-87 (173). The event was contested at The Orchards Golf Club, a par-72, 5845-yard course. Jackie placed second on the Wellesley team, behind senior, Alexandra Fuiks who shot 86-82 (168).
Wellesley College, finished in tenth place, one stroke off ninth place with a score of 709 (359-350). Williams College won the event with a two-day total of 619 (304-315).
Wellesley will be playing at Williams College at the Ephs' Fall Invitational on October 5th and 6th.
Jackie graduated from Diamond Bar HS in the spring where she competed on the Girls HS team.