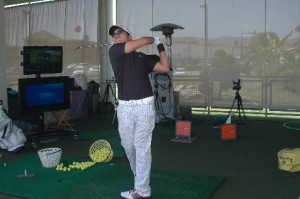 Rory Hie (Ina) – First Round 69 (-2)
"I was really impressed with the way I played today. It was fun to play with the two Japanese stars Hideto Tanihara and Hiroyuki Fujita. The course was playing pretty tough. The windy was gutsy but thankfully I had a good caddy with me and we managed to play through it.
I was one-over par going into the 18th hole (started from the 10th tee) but birdied that and the next two holes. That was good and I stayed on two-under.
I had a solid week in Chinese Taipei two weeks ago (finished tied 12th). I've played in four Asian Tour events so far this season and I feel that my game is coming along. If I can play well this week then I have a good chance to finish inside the top-60 on the Order of Merit and earn a Tour card for next year. That's my goal.
I visited my coach (George Pinnell) in the summer and he helped improve on my putting. It wasn't technique but more a mental aspect of how to visualize the ball rolling into the hole."
*Rory Hie qualified for the Asia-Pacific Panasonic Open when he won the Road to Panasonic Open Series in Indonesia.