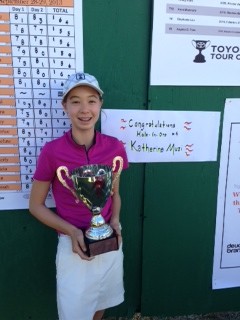 Katherine "The Kat" Muzi, a soon to be 13 year old from Walnut, CA, lit up Redhawk, a difficult golf course, with a 68 in the final round of the two day, Toyota Tour Cup event. Katherine had a rather pedestrian round of 81 in her first day that left her in 19th place going into Sunday's final round. Katherine was not happy with her first round as she kicked off the event by being four over par in her first three hole's. She finished her front side with a 41, but rebounded on the backside with a steady one over par 37 to finish the day with a disappointing 81.
In round two, The Kat, caught "lightning in a bottle" as she shot 31 on her front nine that included a hole in one on the fourth hole. She had a par on one, birdie on two, another par on three and then the "ace" on four. The young player was -3 after four holes. She backed up the hole in one with birdies on five AND six before making a bogey on 7. She backed up the bogey with another birdie and then made par, to post a 31 on her front nine. The lone bogey on 7 cost her a 30 on her front nine.
Her back side was solid, but her putter cooled as she had 8 par's and a lone bogey on fifteen to shoot 37 on the back nine and post a personal best of 68 to go along with her 81 (149) to finish second, behind A. Park who shot 75-69 (144).
According to Katherine's coach, George Pinnell, "Katherine's round today, may be a defining moment in her young career." According to Pinnell, Katherine is undergoing a major retooling of her swing that is beginning to show the result's of her effort's.
Kaitleen Shee, a sophomore at Diamond Bar HS, shot 81-80 (161) to finish in 20th place