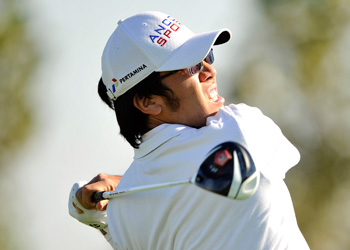 Rory Hie, former USC All-American and #6 ranked amateur in the world (2008), is currently in a tie for 11th place in the third round of the Japan Golf Tour's Qualifying School at TOSHIN Lake Wood Golf Club. Rory is -3 going into the final round with score's of 70-70-73 (213).
Rory currently reside's in Jakarta and has been playing on the Asian Tour since he left USC and the United States in 2008. Rory returned to Southern California in July to Monday Qualify for the Reno/Tahoe Open. After completing his attempt for the qualifying, Rory flew to Los Angeles where he reunited with his long time coach, George Pinnell and met with his college coach's at USC before returning to Jakarta.
Rory is attempting to join Jay Choi a University of New Mexico All-American and David Oh a fellow USC graduate on the Japan Golf Tour where both player's are enjoying success on one of the four major golf tour's in the world. Let's hope Rory make's it three player's on the JGTO!