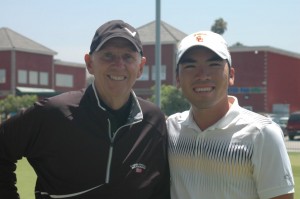 Rory Hie, former USC All-American and number 6 ranked amateur in the world, shot a final round 64 to move him into the third stage of the Japan Golf Tour's Qualifying School. Rory shot 70-70-73-64 (277) to finish in third place at -11, 2 shot's off the winning score of -13.
Rory left USC in 2008 to return to his homeland, Indonesia, to turn pro and play on the Asian Tour where he had some success. Rory is the number one player in Indonesia and want's to expand his experience and play on a major tour, like the Japan Golf Tour. The four major tour's are; PGA Tour, European Tour, Japan Golf Tour and the Sunshine Tour. All other tour's are developmental tour's.
Rory returned to the United States in July to Monday qualify for the Reno/Tahoe, PGA Tour event in Reno, NV. After the qualifier, Rory traveled to Los Angeles, where he worked several day's with his coach, George Pinnell. Rory worked on TrackMan to fine tune his and on the Sam PuttLab to see what his putter stroke and face were doing during his putting stroke.
Following his work with Pinnell, Rory spent time with his USC college coach, Chris Zambri and Director of Golf, Kurt Schuette were he relived his glory day's at USC, before returning to Jakarta to prepare for the Panasonic Open and Japan Q School.