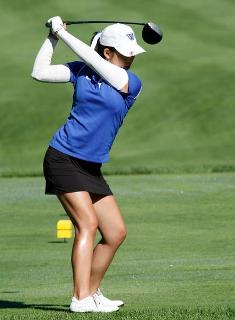 WILLIAMSTOWN, Mass. — The Wellesley College golf team placed 11th out of 15 teams at the Williams Fall Invitational. The two-day event was held at the par-71, 5,827-yard Taconi Golf Club.
As a team, Wellesley improved by nine strokes on day two, lowering a 377 to a 368. The Blue finished with a 745, just three strokes behind Vassar (742) and nine behind Bowdoin (736).
Individually, first-year Jacqueline Lu was Wellesley's top finisher. The rookie was consistent on both days, carding two rounds of 89 to finish with a 178, ranking her 41st out of 80 competitors.
Sophomore Lei Wei was the Blue's next finisher, carding rounds of 91 and 92 to finish with a 183, good for 46th place. Junior Alexandria Lee shaved four strokes off a day-one 95 to record a 91 on day two. She totaled a 186 to finish 52nd overall.
Also competing for Wellesley were senior Lindsey Shepardson and junior Haneen Anbarserri. Shepardson made the Blue's largest improvement on day two, cutting six strokes off her total. She finished with rounds of 102 and 96 for a 198 (61st). Anbarserri recorded two straight 107's, to end with a 214 total in 70th place.
Williams took the team title at the event, shooting a two-day score of 629 (316-313). Middlebury placed second (639), followed by Ithaca (643). Amherst's Jamie Grace shot rounds of 73 and 77 (150) to earn medalist honors, while Williams' Georgiana Salant took second with a 152 (78-74).
Wellesley golf returns to action next weekend, hosting the 2013 Ann S. Batchelder Invitational. The two day tournament will be hosted at the Nehoiden Golf Course on the campus of Wellesley College.