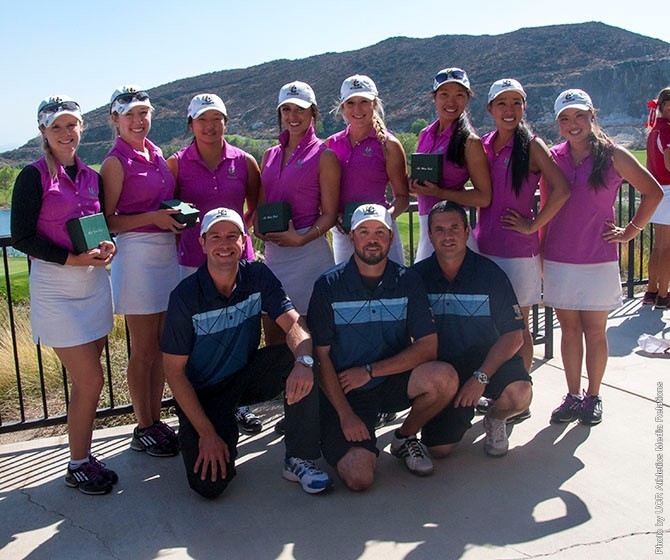 The UC Riverside Women's Golf Team won the 10-team Birdies For Breast Cancer Tournament Tuesday with a final three-round score of 880 at Oak Quarry Golf Club. This is the first win for the team since the squad tied for the team lead at the Bronco Fall Invitational on October 13-14, 2008.
The Highlanders used rounds of 290-292-298 to finish 15 strokes ahead of second-place Cal Baptist (895) and Cal State Northridge (895). Western Kentucky (911) came in fourth while Georgetown (912) rounded out the top-five.
UC Riverside's 880 score also shatters the previous program record for low 54-hole total of 904, set during the 2008-09 season.
"I am extremely elated over the team's performance this week and how well the tournament went," Head Coach Brent Perkins stated. "It is pretty special to see when faced with adversity how well the entire team hung in there and fought for the scores that they got, and eventually the win."
UCR's Brittani Ferraro claimed the individual title with a seven-under-par 209. She fired scores of 70-68-71 to beat out Western Kentucky's Ellinor Haag by just one stroke. It is also the first individual win for a member of the Highlanders since Amelia Ek won the Braveheart Classic in 2011.
Savannah Vilaubi finished in fourth place overall with a one-over 217 (68-74-75), while Haley Wian placed 13th carding scores of 75-73-79 (227). Isabelle Shee shot 231 (79-77-75) to place 19th while Paris Grifith finished 37th with 77-85-77 (239).
Playing as individuals, Tina Nagai and Yuri Ahn both tied for 28th with identical 237 totals, while Hannah Lee tied for 41st with a 243.
"The most important thing about this win is that it gives all the players and coaches so much momentum going into the season," Director of Golf Eric Riehle stated. "That is extremely valuable and allows them to work harder, plus it proves to them that they are potentially a postseason team."
UC Riverside has just a few days to prepare for the next tournament, the Wyoming Cowgirl Desert Intercollegiate, on October 12-13 in Palm Desert, CA.