Jay Choi Roar's Back With Final Round 66 At Toshin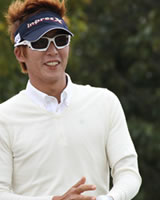 Jay Choi fired a final round 66 to finish in a season best, 12th place at the Toshin Golf Tournament in Japan. Jay used a hot putter to score 34-32 that included 23 putt's. The 30 year old player from Wildomar, CA/Albuquerque, NM, had 8 one putt's on the back 9 that vaulted him into 12th place. (For all of those junior players out there, this indicate's the importance of your short game skills to be able to score well). Jay was 7 for 8 in scrambling (up and down's). The only blemish on his score card was on the par 4, seventh hole.
The former University of New Mexico All-American has been going through a fourth year slump and has been searching for what has made him successful in the past. If his Toshin performance is any indication, it look's like he is headed in the right direction according to his coach, George Pinnell. Choi is hoping to take this momentum into the Japan Open this week.