Rory Hie, former USC All-American and number 6 ranked amateur in the world (2008) has moved onto the world stage with an outstanding performance at the Nanshan China Masters. Rory finished in a tie for 4th place with round's of 75-65-72-70 (282) to finish 3 shot's behind Master's Champion Charl Schwartzel's, -9. British Open Champion, Darren Clarke finished in a tie for 2nd with a -6 total on the Nanshan International GC Montgomerie Course.
Rory told his coach, George Pinnell, that he used a "hot" putter to propel him into contention with his second round 65. "My putter was hot throughout the tournament, but cooled a little on the final nine of the 72 hole tournament."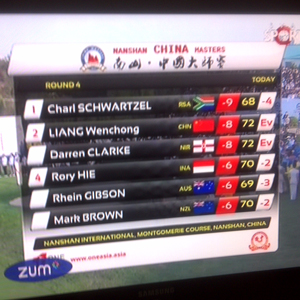 Rory is counting on this positive experience to carry forward at this week's event, The Kolon Open at Woo Jeong Hills Country Club in South Korea. Rory has also advanced to the third stage of the Japan Golf Tour's Q School. Stay tuned, it seem's the 24 year old is moving upward in the world of golf.
Ryan Carter, Hacienda Heights, CA, finished in 19th place with 75-73–73-68 (289). Ryan was a Scholastic All-American from Fresno State University.