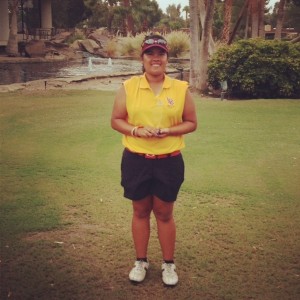 Wednesday, October 23, 2013
Varsity in Moore League Individuals
The final round of the Moore League Individual Tournament took place at Skylinks Golf Course (Par 72). Wilson senior, Alicia Arzaga took a six stroke lead into the back nine over Wilson senior, Hannah Cruz. Arzaga made three birdies over her opening nine holes to post a two under par 34. 
Arzaga was in control until a triple bogey on the par four 12th hole left her only three shots ahead of Cruz who was playing a solid round and stood at only two over for the day after 12 holes. Cruz unfortunately made a double bogey on hole 13 and fell five shots behind Arzaga.
Wilson freshman, Ali Morallos, started the day six shots out of the lead, but was playing well during the final round. Morallos was even par after 13 holes and stood five shots behind Arzaga at that point. Morallos and Arzaga both made par on hole 14. Morallos knocked it on the par five 15th hole in two and made a curling right to left 30 foot putt from across the green for an eagle three. Arzaga subsequently missed a five foot par putt and the lead was down to two with three holes to play. Morallos and Arzaga both made par on holes 16 and 17.
Morallos and Arzaga both hit great tee shots on the 18th hole. Morallos played first from 130 yards and hit her approach to six feet. Arzaga hit her second shot from 90 yards long and right of the green. Arzaga hit a great chip shot to five feet, just inside of Morallos. Morallos rolled in her putt for birdie and forced Arzaga to make her putt for the win. Arzaga rolled in the five foot putt to claim the 2013 Moore League Individual Championship.
Arzaga had previously finished as the runner-up in the Moore League Individual tournament during her first three years of high school. Morallos final round score of 69, which included a 32 on the back 9, is the lowest 18 hole competitive round by a Bruin since Coach Evans took over the Girls Golf Team in the fall of 2006.
The Bruins had five players finish inside the top six, and the top six girls from the Moore League Individual Tournament advance to the CIF Southern Individual Regional on Monday, October 28that Mile Square Golf Course – Classic Course at 8 AM
| | | | | |
| --- | --- | --- | --- | --- |
| Place | Player | School | Round 3 | Total |
| 1 | Alicia Arzaga | Wilson | 74 | 151 |
| 2 | Ali Morallos | Wilson | 69 | 152 |
| 3 | Hannah Cruz | Wilson | 79 | 158 |
| 4 | Shemaiah Javillonar | Wilson | 86 | 163 |
| 5 | Danielle Nhem | Lakewood | 81 | 169 |
| 6 | McKenna Rotell | Wilson | 85 | 171 |
| 7 | Sabrina Cooper | Lakewood | 86 | 178 |
| 8 | Kelsey Yonemura | Poly | 94 | 186 |
| 9 | Katy Stringer | Poly | 94 | 188 |
| 10 | Maya Olson | Poly | 96 | 190 |
| 11 | Lisa Anderson | Poly | 99 | 198 |
| 12 | Naomi Slater | Millikan | 101 | 206 |
| T-13 | Danielle Marquez | Lakewood | 102 | 207 |
| T-13 | Samanda Sweet | Poly | 98 | 207 |
| 15 | Nicole Docuyanan | Millikan | 107 | 210 |
Ali's coach swing coach, said, "I am not surprised at her run today.  She work's very hard to improve her skill set.  Today was even more special because Ali was playing with the flue."