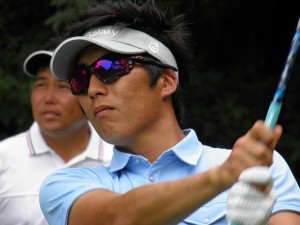 Jay Choi shot a final round 67 in the rain shortened (54 holes) Bridgestone Open on the Japan Golf Tour, to finish in a tie for 7th place. Choi had a slow start to the 2013 season and has been working on improving his performance week by week. The result of his effort is evident by his performance in the last three event's, where he finished tied for 12th, tied for 34th in the difficult, Japan Open, and this week's tie for 7th place at the Bridgestone.
Jay fired a solid 67 in his final round with a 33 on his front side (back 9). Bogies on 14 and 16 (5 &7) slowed his momentum, but birdies on 10 (1), 15 (6) and a closing birdie on 18 (9), gave him a 34. His opening round 71 was matched in his second round and his closing round 67 moved him up the leader board into the tie for 7th place.
The 30 year old's putter performed well this week by finishing with an average of 1.6875 for the three round's and 18th in putting for the week. Jay's GIR would have finished higher than his 59.26% if not for his opening round where he finished 72nd for the day. He finished his final two round's in 17th and 13th place and for the week ended up 28th. His driving accuracy was a huge factor in his final round 67, where he hit 78.57% and finished first that round and 3rd for the week.
Jay will take this momentum into this week's Mynavi ABC Championship at the ABC Golf Club, Hyogo, Japan.
Live scoring can be seen at www.jgto.org.