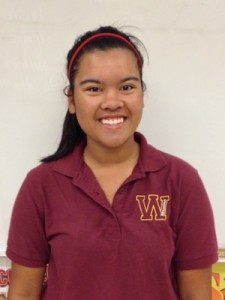 Ali Morallos is on the move, as evidenced by her recent play in Girls CIF Golf. Congratulation's to Ali and former long time student Stephanie Lau on their advancement into the State Regional Tournament. Ali is currently working with her coach, George Pinnell and Stephanie was coached by Pinnell from age 6 to 13. Read about their accomplishments in the Press-Telegram article.
Morallos, Lau, Lee advance in CIF girls golf
Ali Morallos continued her stellar season by shooting a 1-over-par round of 72 on Thursday at the CIF-Southern Section girls golf individual finals/state team qualifier and will represent Wilson at the CIF/WSCGA State Regionals on Nov. 14.
Morallos finished 12th and the top 28 competitors who weren't in team play advanced to next week's competition at The Golf Club of Rancho California in Murrieta.
Stephanie Lau (73) of Valley Christian and Danielle Lee (74) of La Mirada also advanced.
Gazettes Sports Athletes of the Week
Morallos has had the kind of year that freshman golfers don't even bother to dream about, and she kept it going last week at the CIF-SS Southern Individual Regional, where she finished third with a three-under par round of 69 that included six birdies. This wasn't on a familiar, local course, either, but at Mile Square in Fountain Valley. Morallos will play for an individual CIF title Thursday, November 7th at Talega Golf Club in San Clemente.