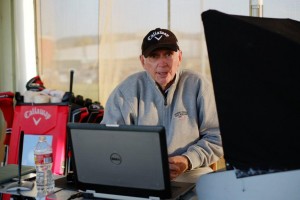 What is TrackMan University (TMU)
The idea behind TrackMan University came from our customers. Golf industry professionals (instructors, fitters, coaches and players) created a demand for learning tools and certification programs to enhance their knowledge about TrackMan technology and data parameters.
At TrackMan we listen to our customers. Therefore we established TrackMan University during the fall of 2011.
TrackMan Certified Professional: Level 2
The TrackMan Certified Professional: Level 2 program requires the passing of the TrackMan Certified Operator test or TrackMan Certified Professional: Level 1 test and it is the path we recommend for instructors, fitters, coaches and players who want an in-depth understanding of the TrackMan technology, the measured data parameters (swing and ball flight analysis) and the underlying theory about the ball flight laws.
Curriculum
Applying data

Ball flight laws
Secret of the straight shot
Smash factor
Spin loft
D-plane

Gearing effect
TrackMan Combine Test
TrackMan's 10 Fundamentals
Leveraging TrackMan Range for training
Pinnell is the owner of The George Pinnell Golf Academy and has been a TrackMan user since 2008. Pinnell use's TrackMan extensively in helping player's of all level's, be it the beginner or tour player, in understanding how and why the ball fly's as it does when it is struck a particular way. Pinnell has a Bachelor of Science Degree in Education and an MBA.
Pinnell work's with Japan Golf Tour Player, Jay Choi (16 year's), Asian Tour Player, Rory Hie and was Kristen Park's coach as she climbed to the number 1 player in Junior Golf in the United State's in 2011. He has worked with former LPGA Tour Player, Mi Hyun Kim and numerous other LPGA Player's as well as Kevin Na and Anthony Kim when they were junior player's.