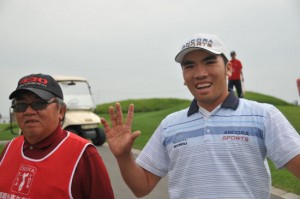 Rory Hie, shot a solid second round 67 following an opening 73 to make the cut in the Resorts World Manila Masters. The event is being played at Manila Southwoods Golf and Country Club, Manila.
After a disappointing first round 73, Rory fired a 67 that moved him from 92nd place to a tie for 39th and allow him to play on the weekend. Rory had 33 putt's in his opening round that contributed to his 73. His second round stat's were much better. Rory had seven birdie's, two bogey's and hit 12 of 18 green's. The key stat was he needed only 27 putt's in his round of 67. Rory told his coach, George Pinnell, that he was regaining his touch and feel in his putting and now has a lot of confidence going into the weekend.
Rory is 92nd on the Asian Tour Money List (Order of Merit) and is 21st on the Order of Merit on the One Asia Tour, where he should regain his card for the 2014 season. Rory has spent most of his time on the One Asia Tour in 2013.
Rory can be followed at www.asiantour.com or oneasia.asia.