Michael Alvarez Signs With Cal State Fullerton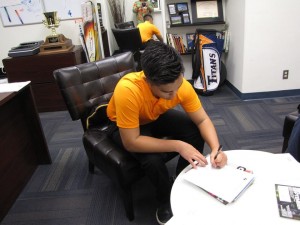 Michael Alvarez, a senior at has signed a National Letter of Intent with California State Fullerton and will play golf for the Titan's in the fall of 2014. Michael will graduate this spring from Coronado High School, Henderson, NV. Michael attended Diamond Ranch High School in Pomona, CA, before transferring Coronado High School.
Michael's swing coach, George Pinnell was elated about Michael's signing and added that "Fullerton will be getting a first class young man that has worked super hard to be recruited to play "D 1 Golf". Pinnell added that "Michael will be a great teammate and leader" and will join Michelle Thompson (Women's Golf Team), another one of Pinnell's player's.