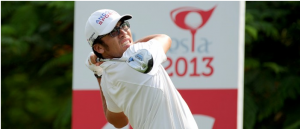 Rory Hie kept up his hopes of winning the prestigious Indonesia Open title when he shot a three-under-par 68 to trail co-leaders Gaganjeet Bhullar and Jazz Janewattananond of Thailand by four shots on Saturday.
The local star marked his card with five birdies against two bogeys for a three-day total of nine-under-par 204 to share fifth place with India's Jyoti Randhawa, who returned with the day's lowest score of 65, and Thailand's Prom Meesawat (71) at the Pantai Indah Kapuk course at the Damai Indah Golf.
Hie, who capped two top-20 finishes on the Asian Tour this year, was delighted to put himself in a strong position to seal a dream victory in his National Open.
"It was exactly what I was looking for. I think I made up some ground to give myself a better chance going into the last round. That's all I can ask for which is to get a chance to win my national Open," said the 25-year-old Hie.
"I feel like I want to win more than anyone out there in the field because it is my National Open. I felt like I've taken another step in my mental approach to the game this week. There were times when I felt like it is getting away from me but I kept reminding myself to keep playing and keep going. Hopefully I can win tomorrow," he added.
Hie was also proud with the performance of three local amateurs, Jordan Irawan, William Sjaichudin and Tirto Tamardi, who made the halfway cut and is currently ranked in 60th, 69th and 74th position respectively.
"It is good news to see three amateurs made the cut because it shows that Indonesian juniors are playing well and growing as a nation in golf. Hopefully we will see more good players come out," added the local talent.
Currently 89th on the Asian Tour Order of Merit, Hie will be aiming for a good finish to boost his rankings on the Order of Merit as the top-60 players at the end of the season will earn full play rights on the Asian Tour.
The 39th edition of Indonesia's national championship, which has a rich and illustrious history dating back to its first edition in 1974, is the nation's oldest golf tournament.
Fans from around the world can also watch these world class golfers in action through the live broadcast on the Asian Tour Media platform. Asian Tour Media will produce 16 hours of live coverage from the event which will be seen across Asia, Australia, the Middle East, Europe and Latin America plus further coverage and distribution generated via the highlights and magazine programmes from the event, resulting in global media exposure for all the sponsors involved in this prestigious tournament.
The 2013 Indonesia Open is supported by some of the most recognisable domestic and international brands, which include BANK BRI, Total E&P Indonesie, Japfa, PT. Indofood Sukses Makmur Tbk, JS Luwansa Hotel & Convention Center, Pertamina, Harum Energy, Bintang, Sequislife, Subway, Beringer, Mazda, Srixon, Loewe, Danone, Hypernet, Ricoh, White Horse and Maui Jim.
For more details on the 2013 Indonesia Open, please visit the official tournament website www.indonesiaopen.net or its Facebook page www.facebook.com/indonesiaopengolf.