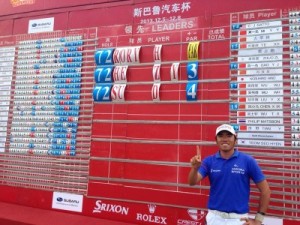 Rory Hie, former USC All-American and sixth ranked amateur in the world, won the China PGA Championship at Mission Hills. Rory won the event with a final round 72 (par) on the Dongguan Course that is recognized as the most difficult golf course in Asia.
Roy told his coach, George Pinnell, that he was happy to rebound after last week's terrible final round 79 that took him out of contention at the Indonesian Open. Rory was in a position to challenge for the win but the excitement and pressure from trying to win his country's national championship was a difficult task. Pinnell told Rory, that it was a valuable lesson learned under difficult circumstance's and that he would use the experience going forward. He did, the next week!
Rory's putting was a big factor in the final round and he told Pinnell that he "reverted back to his lesson last summer with you in Los Angeles." Rory was excited to win the final event of the season and will take this experience forward into the 2014 season.