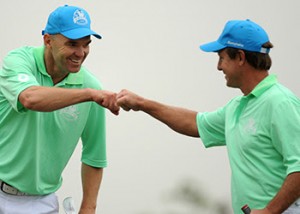 SHENZHEN, Dec 13 – An Asia-Pacific Select side seeking a third win in-a-row eased on Friday to a 4 1/2  – 1 1/2 lead against Team China after the opening round of OneAsia's Ryder-Cup style Dongfeng Nissan Cup at the CTS Tycoon Club.
Veterans Zhang Lianwei and Huang Wenyi were the only Chinese pair to prevail on a day of fourball action that belonged to the visitors, although Su Dong and 16-year-old amateur Dou Zecheng looked to have their game in the bag on the 18th until Matthew Griffin drained a 60-foot birdie putt to steal a half with Gareth Paddison.
The Dongfeng Nissan Cup pits 12 Asia-Pacific players against a China national team over three days of matchplay competition. The visitors won the inaugural 2011 tournament 12 1/2  – 11 1/2, and retained the title last year with a 14 1/2 – 9 1/2 victory.
Scott Laycock and Michael Long got the Asia-Pacific select side off to the best possible start with a 7 & 6 thrashing of Wu Ashun and Wu Kangchun.
One up after five, the Asia-Pacific pair turned on the heat to take the next six holes, with Laycock in particular showing great form.
The Australian is also vice-captain, so the early finish gave him the chance to get back out on the course and show his team-mates the way home.
"It's not over by a long way," Laycock said afterwards.
"With matchplay anything can happen and the scores don't really reflect how hard the Chinese players pushed us."
Zhang and Huang were never behind against Choo Tze-huang and Eric Mina and led by four after nine holes, but stuttered down the final straight before winning  2 & 1.
The third match proved the most exciting of the day with Rory Hie and Thaworn Wiratchant trading birdies with Yang Guanming and Yan Bin until clinching the match one up.
"We were actually six under for the day and only won one up," said Hie. "We couldn't shake them off."
The Korean pairing of Kim Dae-sub and Choi Ho-sung disposed of Li Chao and Huang Mingjie 4 & 2 and the Japanese duo of Masamichi Uehira and Kazuhiro Yamashita sent Wang Mingao and Li Xinyang packing  4 & 3.
Not surprisingly, the Asia-Pacific Select side chose to keep their pairings the same for Saturday's foursomes, while Team China is ringing the changes.
"It felt we were like high school players up against college students," said China vice-captain Cheng Jun.