GOLFER OF THE YEAR
ALI MORALLOS, WILSON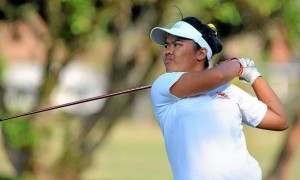 One golfer was eligible to win all of the 2013 individual awards and did not disappoint in her first year as a high school student. Ali Morallos kicked off her year in style with an individual championship at the Chappy Wheeler Invitational in September.
After finishing one stroke behind teammates Alicia Arzaga in the Moore League individual tournament, Morallos was runner-up at the CIF-SS Southern Team Division Individual and finished third at the CIF-SS Southern Individual Regional with an impressive 69. Those numbers earned her a spot in the CIF State Regional, where her four-over 76 missed the cut for the state finals by three strokes.
Morallos also set Wilson records by posting a low round of 69 at Skylinks and Mile Square golf courses and finally at Costa Mesa Country Club. She also had the lowest nine-hole round with a 32 at Skylinks in the final round of Moore League play.
"She's special," Wilson head coach Jeff Evans said. "She's the whole package because it's not just that she's a great golfer. She's also a great kid, good student and nice person. There aren't many like her."
Morallos got an early start on her high school career. She met Arzaga, Hannah Cruz and Shemaiah Javillonar at a Long Beach Junior Golf Academy event when she was in the sixth grade. It just so happened that group of Wilson golfers would be senior leaders when Morallos arrived on campus.
"I was lucky because they told me what to expect and the start of school and the season at the same time wasn't really that overwhelming," said Morallos, who added her favorite moment as a team was a season-opening tournament in Palm Springs.
"The car rides and the conversations we had really helped us build our chemistry," she said.
Morallos went on to win that Chappy Wheeler tourney as an individual.
"I still have goals," she said. "I have to win the Moore League first, and then game back to the state regional and advance. This year was nice because it was worth all of my hard work and preparation."
Ali's swing coach, George Pinnell, is happy to see the progress Ali has had in her first year playing high school golf.  Ali and Pinnell, agree that there is work to be done in the "off season" with preparation for the all importart spring and summer season on the AJGA (American Junior Golf Tour).  Ali is committed to making improvement's in her skill set to meet the demand requirement of the AJGA tour.