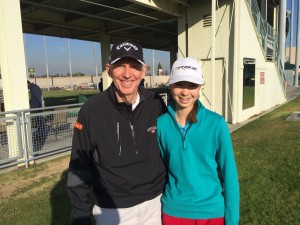 January 27, 2014 Katherine "The Kat" Muzi finished in 12th place at the Corey Pavin Southern California Invitational.  The event was played at Maderas Golf Club a Top 100 Greatest Public Courses.
Katherine was the second youngest player in the field and played well by improving her score each day.  The talented youngster from Walnut, CA., shot 85-78-76 (239).  Her opening round was marred by a triple bogey on the par 5, eighth and a quadruple bogey on the par 5, fourteenth to shoot 85.
The format was like a college event, playing 36 holes the first day and a final 18 on the second day to conclude the 54 hole event.  A real test of durability, focus and concentration for these juniors.
Katherine's second round was better with an opening 37, on the front side.  The tall, lanky, 13 year old made 5 bogey's on the back side to post a 42 and a total of 78.  Strength and durability played a part in the final 9 holes.
In the final round, Kat opened with 2 bogey's and then made a birdie on four, bogey on 5 and finished with a birdie on 7, a double on 8 and a birdie on 9, for 38.  She settled down on the back side and the only hiccup she had was a double on 13 to go along with 8 pars for a solid 38 and a final round 76 (+4).
According to her coach, George Pinnell, "Katherine is improving on a steady basis and her mental skills are getting better.  Pinnell went on to say that if Katherine continues her love of the game and her work ethic, that she will have a chance to have an impact on junior golf at the national level in the next several year's."
E. Takada, Irvine, CA., won the event with a 217 (73-71-73).