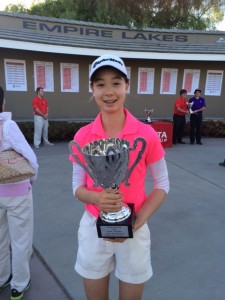 February 24, 2014 Katherine "The Kat" Muzi won her first Toyota Tour Cup event at Empire Lakes with a career best 67 and a career best two day total of 139 
(-5)
.  Katherine put together two consistent rounds that included an eagle, 9 birdies, 2 bogies and 2 double bogies.  Katherine made 5 birdies and 4 par's on her front side that gave her 31 
(-5) 
to go along with an even par back side. 
The 13 year old is an 8th grader that her coach, George Pinnell, has indicated that this event could be a start of something big for the tall, lanky player, who loves to practice and compete.  Pinnell had another 8th grader that went on to become a USGA Champion at 14 when she won the Girls USGA Championship.  Kristen Park went on to become a 5 time AJGA Rolex All-American and the 2010 Player of the Year.  Pinnell said, "there are some similarities in Katherine and Kristen, and it is conceivable that Katherine is at the beginning of an outstanding amateur career."
Ali Morallos another up and coming player from Long Beach, CA, finished in a tie for 4th place with solid rounds of 73-74 (147).
Crystal Wang, rebounded with a closing 76 that gave her a two day total of 158 (82-76) and finished in a tie for 21st place.  Three double bogies and two triple bogies in the two rounds slowed Crystal's race to the top.
In other weekend action, Felicia Chang shot 78 to be one of six girls who qualified for the Toyota Tour Cup event at River Ridge.  The qualifier was played at General Old in Riverside, CA.  Felicia has been working to improve her short game and putting along with her concentration skills and the results are showing up in her scoring.
In the Boys Qualifier, Roman Aragon shot 86 and finished tied for 54th while Aaron Chang shot 92 and finished in 60th place.
At the Dad Miller Spring Classic, Roman Aragon shot a 77 to finish in a tie for 7th place in the Boys 14-15 Group.
Leo Lu,11, finished in second place with a two day total of 82 (39-43) in the SCPGA/LA County Two-Day Series.  Precious K Saelee shot 88-80 (168) and finished in a tie for 4th place in the Girls 12-14 Group.  Sneha Yadev and Sherilyn Villanueva tied for first with score's of 89.
At the Brookside Spring Classic, Yi Yi Ouyang shot 47 and finished in 9th place in the Boys 9-11 Group.
In Garb JDL action, Ryan Toh, shot 49 and finished in a tie for 12th in the Boys 11-under age group.  Ryan is showing tremendous improvement and is excited about his golf.