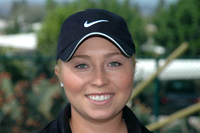 Joy Trotter, shot a personal best 73-73 (146) in the rain shortened Volvik Championship that was played at Industry Hills Golf Club at Pacific Palms, Eisenhower Course, City of Industry, CA.  Joy finished in a tie for 22nd, another personal best on the Symetra Tour.  The Symetra Tour is the developmental tour for the LPGA.
The tournament a 54 hole event, was suspended because of rain and was shortened to a 36 hole event.  Joy's first round started strong with birdies on 3 and 8 before making a bogey on the 9th hole that gave her a -1 under par 35.  Bogies on 10 and 13 slowed her down a little and she finished the first round with a solid 73 (+1).
Her final round that ended on Monday, was a mixed bag.  A birdie on 3 was followed by bogies on 4, 6 and 9, gave her a 2 over par 38.  A birdie on 10 was followed by a double on 11.  Joy's ball striking was solid, but club selection and getting the correct yardage caused problem's on the back side of the difficult Ike Course.  Joy rebounded with birdies at 13, 15, made bogey at 16 and finished with a solid birdie on the par 5, 18th hole to post 35 (-1) on her finishing 9 and a final round 73.
Trotter will have two week's to prepare for the Florida swing where they will open at Florida's Natural Charity Classic in Lake Wales, Florida on March 21-23.