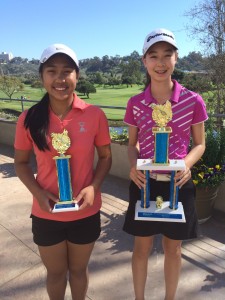 Katherine "The Kat" Muzi, won the Callaway Junior World Open Qualifier at Riverwalk Golf Club. Kat played in the 13-14 division and shot -2 (70) in her opening round followed by a 2 over par 74 to catch J. Siphomsay, who shot an amazing -6 in the first round, but the pressure of the moment resulted in a second round +6 (78) to tie Katherine and go into a playoff.
In the first round, Katherine shot 37 on the front nine with a birdie and two bogies. She came alive on the back side with four birdies and a lone bogey for a 33. Only one player, the winner, would qualify for the Junior World. Katherine knew she had an uphill climb to catch Jade, who had a 4 shot lead with 18 holes to play. Katherine, being one to give up, decided to play as well as she could and let the chip's fall where they may. Katherine's second hole was a disappointing double bogey on the par 3. Bogies on five and nine made her think she could not win, because she was playing with Jade who shot a one over 37, while Katherine posted a 40.
They made the turn and knew she had to give it her all to have an outside chance. She birdied ten and fourteen and finished with a solid 34 and a final 74 to go along with her first round 70 for a total of 144 (even). Jade made a bogey on twelve, a double on thirteen and bogies on fifteen and sixteen to shoot a back side 41 to go with her 37 (78) and a total of 144 to tie Katherine.
The playoff was contested on the Presidio Course and the first playoff hole was a par 4. Katherine, "striped" her drive down the middle that left her with a uphill, against the wind, 115 yard shot to the pin. Katherine hit a solid 9 iron, 6 feet left of the pin that left her with a 6 foot left to right, downhill breaker. The Kat, knowing what was on the line, drained the putt for a birdie 3 and a spot in the 2014 Callaway Junior World Championship!
This is a great example to all junior players to, never give up, because we do not know what the final result will be, until the final putt drop's into the hole. Katherine's performance is a great example of the saying, "never say die"!