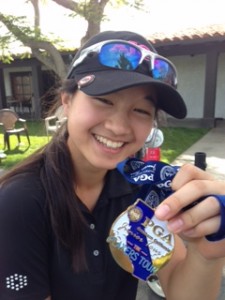 15 year old, Felicia Chang, a sophomore at Troy High School, Fullerton, CA, shot a career best 69 (-3) to win the El Prado Spring Classic.  Felicia had birdies on 2, 3 and 10, to go along with 15 par's for a bogey free round.  The youngster from La Habra Heights, CA, hit 11 of 13 fairway's with a borrowed Big Bertha driver, from her coach, George Pinnell.  (Following the round, Felicia ordered one!)  She hit 14 green's and made all four up and down's of those she missed.
Felicia told Pinnell, "I just forgot about past score's and focused on the next shot in front of me.  I also incorporated what you and I talked about Friday evening.  I aimed at the center of every green and did not go pin hunting."
Pinnell, added that, "Felicia has worked so hard on improving her game but had difficulty getting the ball into the hole, until today.  I am so happy for her success today and I hope she is able to carry this over into her next event.  Hopefully she has turned the corner and will continue to post score's that are characteristic of her ball striking capabilities."
In the Boys 9-11 division, Yi Yi Ouyang shot a 48 and finished in a tie for 18th.  Sneha Yadav, shot a 43 and finished in a tie for 4th in the Girls 9-11 division.
In Garb JDL action at Heartwell, Ryan Toh, shot a career best 39 to finish in a tie for 23rd.
At the TTC Industry Qualifier @ Whittier Narrows, Felicia Chang finished in a tie for 7th, two shot's off the qualifying score, with +6, 80, while Elizabeth Fung finished in a tie for 15th with an 83.  In the Boys Qualifier, Roman Aragon, shot 79 and finished in a tie for 55.
Ali Morallos, shot 78-82 (160) to finish in a tie for 13th at the Toyota Tour Cup Series @ Carlton Oaks while Crystal Wang shot 90-82 (172) to finish in a tie for 31.