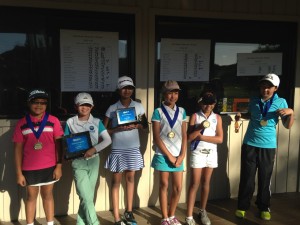 Isabelle San Antonio won the Paul Benoit Memorial in San Diego with a score of 63.  Isabelle played in the 10 and under age group.  The talented young player shot 33-30 and won the event by 2 shot's over Sriya Mupparaju.
Meanwhile, 140 miles to the north, Matthew Huo shot a two day total of 150 (74-76) to win the River Ridge Spring Championship at Victoria Lakes.  Matthew has been working hard to lessen the number of unforced error's that results in higher scores than Matthew would like.  The 13 year old is progressing well according to his coach George Pinnell.
Jomar Veloso finished the event in fifth place. In San Bernardino, Felicia Chang, shot an 84, to finish in a tie for 4th place, 7 shots behind the winning score of 77, shot by C. Lee in the Girls 15-18 group.  Sherilyn Villanueva, tied for first place in the Girls 9-11 group with a score of 42 while Patrick Ordonez shot a 46 and finished in 7th place in the Boys 9-11 group.
On Sunday, March 30, Felicia Chang shot 79 to finish in 6th place at the Golf Academy of America Spring Classic at the Balboa Golf Course, Encino, CA.  Felicia was only 4 shots behind the winning score of 75.  Sherilyn Villanueva finished 3rd in the Girls 9-11 group with a 45.
Ryan Toh, finished in 9th place with a 53 at the U.S. Kids event at the Brookside Golf Club.