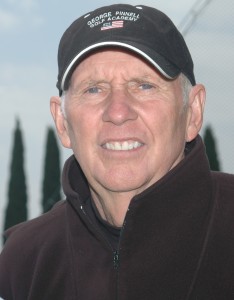 The George Pinnell Golf Academy is in the process of upgrading the V1 Professional Video into the latest HD software system available to the coaching/instruction profession. HD video has been around for several year's but not available to the coaching profession because of the inability of computer's to handle the streaming of live video at such high speed's. The computer manufacturer's determined that the market demand did not warrant the investment. Enter, Interactive Frontiers, the maker of the number one video analysis system in the industry, V1 Professional Video.
Interactive Frontiers, have integrated a specific USB HD camera with their V1 Professional HD software to provide the GPGA with the benefit of video that will be more "crisp" and satisfying to our customer's and player's, according to GPGA owner, George Pinnell. The system necessitates the need for a "super computer" with a solid state drive.
This is new technology for the golf coaches and instructors and the GPGA is again on the cutting edge of providing customers with the best equipment available to help them improve their skill set. In addition to the V1 Professional HD Video, Pinnell use's TrackMan and the Sam PuttLab to assist him in coaching/teaching academy.
For more information contact 626-512-4575 or www.georgepinnell.com