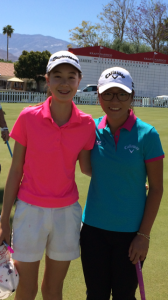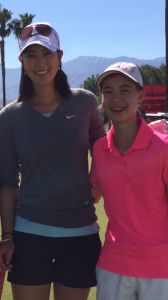 Katherine "The Kat" Muzi, was selected to play in the Kraft Nabisco Championship, Champions Junior Challenge.  The KNC Champions Junior Challenge, an event part of Kraft Nabisco Championship wee, will give the top California junior girl golfers the chance to play along side LPGA Legends for a shot at a spot in the LPGA Major tournament.  The Junior Challenge took place on Monday with the Kraft Nabisco Championship beginning later this week.  Both events are held at Mission Hills CC.The Legends are made up of Amy Alcott, Donna Andrews, Jane Blalock, Pat Bradley, Donna Caponi, Betsy King, Nancy Lopez, Patricia Meunier-Lebouc, Sandra Palmer, Sandra Post, Jo-Ann Prentice, Patty Sheehan, Annika Sorenstam and Kathy Whitworth.The junior players were split into team's and coached by one of the Legends.  Results can be seen at https://www.ghintpp.com/scga/TPPOnlineScoring/ResultsStroke.aspx?type=players&id=1016
Katherine played well on the Palmer Course and shot a solid 74.  She started on the back nine with a 37 and then made the turn and shot another 37.  Unfortunately, the 3 putted the last hole.  The 13 year old held her own against a very strong field of players that were older and more experienced.  The Kat finished in a tie for 13th place.  The 3 "jack" cost her a tie for 7th place.
Steve Muzi, Katherine's father, summed up the day pretty well as he text Kat's coach, the following, "Very electric.  Yesterday and today.  Quite humbling to be here with the legends and great players.  What an honor."
I am sure the Challenge has a number of girls who will be competing in future Kraft Nabisco Championship's.  I know "The Kat" want's to be one of them.  Stay tuned.