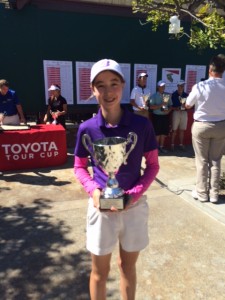 The Kat, Katherine Muzi, took the bite out of "The Babe" at Industry Hills.  Katherine shot 71-74 (145) on the par 71 track, that is known to be a course that very good amateurs prefer not to play, because of the preciseness required on tee and approach shots.  K Lee won the event by a shot 71-73 (144).
Katherine's opening round was a mix of 5 birdies, 5 bogies and the rest pars.  No major mistakes.  The Babe is a course that local knowledge is worth at least, 3-5 shots per round.  The front side on the 2nd day produced 1 birdie, a bogey and 2 double bogey's.  She came back on the back side with 2 birdies and a bogey for a -1 (34).
Kat was not pleased with her performance, but her coach, George Pinnell, reminded her that "Kelly Lee is 2 year's older than her and that mean's she has 2 more year's of experience.  That 2+ year's of experience is huge when playing a course like The Babe.  And you experienced what it is like to fall short by a shot and that will be very meaningful to you, as you grow your game.  The loss will make you better and stronger in future events."
Crystal Wang made a move this week and finished in a tie for 12th place.  Crystal shot 79-75 (154).  Crystal is in the process of changing her work habits as they relate to her practice time and it looks like she is making progress.  Her father made a surprise visit and that seemed to have a positive affect on her.
At the Recreation Park Spring Classic, in Long Beach, CA, Felicia Chang finished in 4th place with an 85, in the Girls 15-18.  Sherilyn Villanueva finished in 2nd place in the Girls 9-11 and missed tying for 1st place by a shot.  She shot 44.
In the Boys 9-11 division, Yi Yi Ouyang finished in a tie for 6th place with a 46 (Personal best).  Patrick Ordonez shot 47 and finished in a tie for 10th place.  Patrick has informed his coach, that he definitely needs to improve his putting (as his parent's sat there, nodding their head's, laughing).
Aaron Chang, coming off a week's vacation in Washington DC, shot 97 and finished in 21st place in the Boys 14-15 division.  Sebastion Vallejo, continued his winning ways in the Boys 12-13 division as he shot a 77 to win by a shot.
At the Encino Spring Classic, Jomar Veloso shot 83 (+11) to finish in a tie for 9th.
Patrick Ordonez finished in a tie for 7th at the Lakewood Spring Classic in the Boys 9-11 division.  Elizabeth Fung shot an 81 and finished in 7th place in the Girls 15-18 division while Sherilyn Villanueva, shot a 44 and finished tied for 3rd in the Girls 9-11 division.  Sneha Yadav, shot 50 and placed 6th.
Felicia Chang finished in 8th place at the Toyota Tour Cup Twin Oaks Qualifier @ Encinitas Ranch.  "Fish" shot an 80 and missed a playoff for the final spot by a shot.
And that is a wrap for this week's action on the SCPGA Junior Tour.