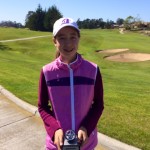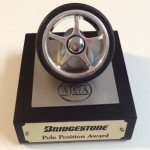 Katherine Muzi shot a brilliant opening round 69 to have a 3 shot lead going in to the final round of the Junior All-Star at Cypress Ridge Golf Club at Arroyo Grande, CA.  Kat's opening round consisted of 3 birdies and a bogey on the front side for a -2 (34).  The back side produced a lone birdie to go along with 8 solid pars for her opening 69.
The second round did not develop the way the talented 13 year old had anticipated prior to the round.  Kat had a 2 shot lead over 5  tough competitors going into Sunday.  Kat opened with a par on 1 and a birdie on 2 before making her first bogey of the day on 4 followed by another bogey on the 8th hole.  Her one over par 37 still had her in a position to win the event.  A bogey on 11 was followed by back to back birdies on 12 and 13.  The tide turned on 14 with a bogey and a dreaded triple bogey 7 on the par 4, fifteenth hole.  Kat finished with par, bogey, par on 16, 17 and 18 to finish with a 77 and a two day total of 146.
Had Katherine been able to finish 14-18 at even par, she would have been in a play-off to give her a chance to win.  Losing 5 shots in the closing 4 holes is something that Katherine will take a hard look at and try to ensure that she finish's stronger when placed in a like situation.
Kat's opening round 69 earned her the Bridgestone Pole Award for posting the low first round of the tournament.  Just remember, The Kat will be back!
Ali Morallos of Lakewood, CA shot 76-78 (158) to finish in a tie for 12th place with former GPGA student Nina Novilla.  Felicia Chang posted a pair of 79's for 158 aand a tie for 18th.  This is Felicia's second national event and she has been making improvements in her ability to respond with an advance field of competitors.