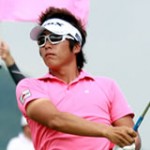 Jay Choi opened his fifth year on the Japan Golf Tour with an opening round, even par, 71.  The opening 2014 event is the Token Homemate Cup being contested at the Token Tado Country Club Nagoya.
Jay opened the season with a mixed bag of par's, birdies and bogies.  His round started on the tenth hole with a par, followed by a bogey on eleven, a birdie on twelve, another bogey on thirteen and another birdie on fourteen, before settling down with pars on fifteen, sixteen and seventeen and eighteen for an even par 36.
A birdie on one was backed up by bogies on three and four, before another birdie on five.  Jay finished his day with a bogey on eight and a birdie on his finishing hole, nine.  Jay hit twelve green's and used 29 putts, to post his even par, 71.  "Consistency should be the order of the day for Choi as he as always been a "river boat gambler" when it comes to course management," according to his coach, George Pinnell.  Pinnell went on to say, "it is difficult to see the reason's for so many bogies when one is watching from afar without having the benefit of seeing the action.  It is difficult to see the positive effect of the birdies erased by an equal amount of bogies.  To be successful, a player must play with consistency and measure the risk versus the reward of their course management and shot selection."  Pinnell said, "year's ago, another pro told me the. "the first sign of pressure, is poor decision making, the second sign of pressure is, poor execution."
Jay is five shot's behind the leader's that include Keisuke Sato, Toru Tanguchi, Yujiro Ohori Joon-Woo Choi and Kiyoshi Miyazato, who all shot -5, 66's.
Second round live scoring can be viewed at www.jgto.org.  Jay Choi's tee time is 4:40 pm Pacific Daylight Time.