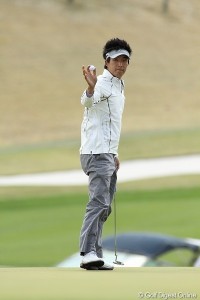 Jay Choi, Albuquerque, NM, Japan Tour Player, shot a -3 under par 68 in his second round to boost him into a tie for 30 in the opening tournament of the Japan Golf Tour.  Jay shot an opening round even par 71 with 5 birdies and 5 bogies.  He improved his second round play by posting only 2 bogies to go along with his 5 birdies.  Knowing how important it is to "finish" a round, Choi birdied his final holes of the day, 17 and 18 to finish the backside with a solid 33 to go along with his even par 35.
A key component was his 83.33% GIR percentage in the second round that was 3rd best for the day.  Jay shortened his driver from 313 yards the first round to an average of 280.5 yards in the second round and improved his driving accuracy from 50% in the first round to 64.29% in the second round.  The accuracy from the tee put him in a position to hit more green's and that of course led to more par's and birdies.
It is important for a player to get the season off to a good start, and Choi has been known to have a late season charge.  Jay has been preparing to play better, earlier in the season so as to not put so much pressure on performance later in the long season.  The leader's are at -9, but Choi is in a good place going into "moving day" to advance his position going into the final round on Sunday.
Live scoring is at www.jgto.org