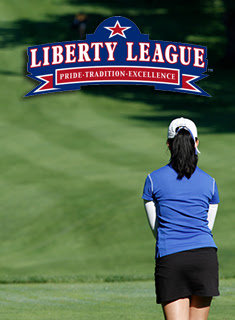 BERNARDSTON, Mass. — Wellesley first-year Jacqueline Lu is tied for ninth place overall as the Blue sit in fourth after day one action at the 2014 Liberty League Women's Golf Championships. The two-day event is being hosted by Wellesley at the par-72, 5,824-yard Crumpin-Fox Club.
Lu fired a day one score of 87, including a 43 on the back nine to sit in the top-ten after the first round of play. The top-10 golfers at the event will earn spots on the All-Liberty League team.
After Lu, four other Blue golfers are sitting in the top-25 at the event. SeniorLindsey Shepardson wrapped up day one in 16th place with a 93, while juniorAlexandria Lee is tied for 17th after shooting a 95. Senior Alexandra Fuiksand sophomore Lei Wei each carded rounds of 97 to sit tied for 22nd place.
As a team, Wellesley compiled a day-one total of 372, just 12 strokes back from third place, St. Lawrence University. NYU is in first place with a 333, followed by Mount Holyoke with a score of 341. Vassar (377), William Smith (403), and Union (496) rounded out the day one totals.
Individually, St. Lawrence's Claire O'Neil has the lead after shooting a 76. NYU's Ktistina Shalhoup sits three strokes back in second (79), while Mount Holyoke's Madi Mendiola is five strokes off the lead after shooting an 81.
Liberty League Championship action continues tomorrow morning at Crumpin-Fox.