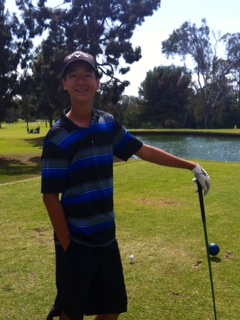 13 year old, Matthew Huo, shot an even par 71, to win the Golf Academy of America Spring Classic, by 4 shot's over Sean Ko who shot a 75. The event was played at the Anaheim, CA, Dad Miller Golf Club. Matthew has won 5 time's this year and has had 6 top five finish's in 2014. The young player from Corona, CA, has been working hard to improve his game so that he can play more event's on the Toyota Tour Cup circuit and the AJGA (American Junior Golf Association).
Matthew shot an even par 35 on the front nine with 9 par's. He was -2 through 14, before he made bogies on 15 and 16. He shot another even par to go along with his front side to secure the victory.
Felicia Chang shot 78 to place 2nd in the Girls 15-18 division. Felicia opened her round with a birdie and ended her round with a birdie. Felicia shot a 38 on her front side but two double bogies derailed her chance to win the event. Kaitie Stribling, won by a shot at 77.
Felicia is working hard to secure a top 5 position in the Spring Player of the Year Points Ranking, so that she can move up to the Toyota Tour Cup events. She is also looking forward to playing in several AJGA events this summer.
Roman (Romo) Aragon's putter failed him in the Boys 13-14 division when he shot a 78 to finish in a tie for 14th. Aaron Chang struggled with a 95, and a 30th place finish.
In the Boys 9-11 division, Patrick Ordonez, shot 46 and finished 16th. Patrick blamed poor course management decisions as he discussed his round with his coach, George Pinnell. Sherilyn Villanueva shot 40 and finished in a tie for 2nd in the Girls 9-11 division while Sneha Yadav shot 43 and finished 8th.
Yi Yi (Doubles) Ouyang, shot a personal best 33 (+4) to finish in a tie for 2nd place in the Boys 9-11 division at the Sephlin Spring Classic @ Newport GC, Newport Beach, CA. Yi Yi, finished a shot behind the winner, J Chen, who shot 32.
Mylan Hirata, struggled with her putting as she shot a 77 in the Girls 12-14 Division and finished in a tie for 15th.